Update #5 [5:02 PM 11/25/2011]

Chris shows the viewers the classified documents.

Upload Date

November 25, 2011

Uploader

Prev. Video

Next Video

Gorr'Rylaehotep

No

The Order

No

Kind von der Ritter

No

Season

2
Update #5 [5:02 PM 11/25/2011] is the forty-second video in the Dark Harvest series.
YouTube Description
Edit
Just an update on the papers we found. Sorry, guys, I can't release them.
Chris explains that he is unable to upload scans of the classified documents he had obtained from the chest owned by Heather, which detail the Princeton Experiment. He then describes the documents, letters sent between four people: Marc McComber, the program director, a lieutenant, and a professor whom McComber had been an assistant to.
Attendance
Edit
Major Events
Edit
Chris reviews the documents he took from Heather and discovers that Marc McComber was involved in the Princeton Experiment, which took place at the Atlantic Test Site in the 1950s, but details of what the Experiment was about are not revealed.
Chris wears an Invader Zim shirt that reads "I've got a squeedly-spooch", which is a quote from the episode "Dark Harvest."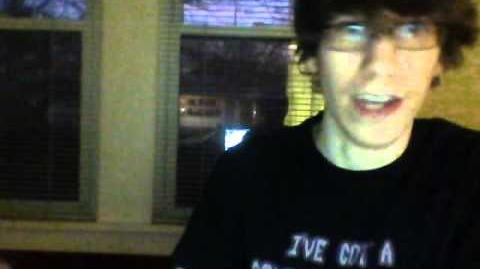 Ad blocker interference detected!
Wikia is a free-to-use site that makes money from advertising. We have a modified experience for viewers using ad blockers

Wikia is not accessible if you've made further modifications. Remove the custom ad blocker rule(s) and the page will load as expected.