Update #3 [3:04 PM 3/24/2011]

Chris and Alex confirm Greg's passing to the viewers.

Upload Date

March 24, 2011

Uploader

Prev. Video

Next Video

Gorr'Rylaehotep

No

The Order

No

Kind von der Ritter

No

Season

1
Update #3 [3:04 PM 3/24/2011] is the twenty-fourth video in the Dark Harvest series.
YouTube Description
Edit
- Our deepest condolences to the family of Greg, who was one of our dearest friends. You will always be missed, buddy. -
We're trying to explain everything to the best of our ability. After seeing Log 14, I had no idea that Alex even saw Greg's body. I don't remember much at all after seeing him. What I do remember is waking up at the hospital. This whole situation is so out of hand that I feel we can no longer run from it. We're going to have to deal with it, and deal with it ourselves considering both our trust in the police has really been waning recently.
Some information we gathered about Kind von der Ritter, who seems to be our best lead at the moment, may be useful. Any help you could give us in determining what this all means would be appreciated. We're going to be keeping a close eye on his activity.
Here is his Youtube Account: http://www.youtube.com/user/KindVonDerRitter
and this is a blog that we assume was created by him: http://kindervonderritter.blogspot.com/
One strange thing that I noticed about this blog is its title :Children of the Knight, and also its address - Kinder von der Ritter (which translates the same). Children is plural, which makes me wonder if there are more people than just KindVonDerRitter that know what is happening to us.
- Chris
Chris and Alex discuss the events of Logs 14-1 and 14-2.
They say that while Chris is okay, Greg was dead on arrival at the hospital, and his body was missing some vital organs. While Chris was recovering at the hospital, a police official called Detective Amsel pulled Alex aside and told him that Greg's death was likely the result of a serial killer. This serial killer has been killing for many years and is called the "Tall Man" by investigators, and while he is at the scene, he is never caught in the act.
Alex described the detective as strange, as did Chris when he was approached by him after his release from the hospital. Chris got the impression that the detective wasn't local police and might have been FBI. When Chris requested identification from the detective, he kept avoiding the question. Chris said that he felt obligated to answer the detective's questions as he was a large and intimidating individual. The detective informed them that the Tall Man is always seen near the area before anyone realizes that the crime has been committed, and that his modus operandi is always the same; the theft of organs.
Chris and Alex promise to investigating, and consider Kind von der Ritter their best lead.
Attendance
Edit
Major Events
Edit
Chris has recovered from his catatonic unconsciousness caused by Gorr'Rylaehotep in Log 14-1.
Chris and Alex confirm Greg's death as a homicide, caused by a "serial killer" that removes the organs of his victims.
Chris and Alex decide to personally investigate Greg's homicide, seeing the police are no help.
"Amsel" translates to "blackbird" in German.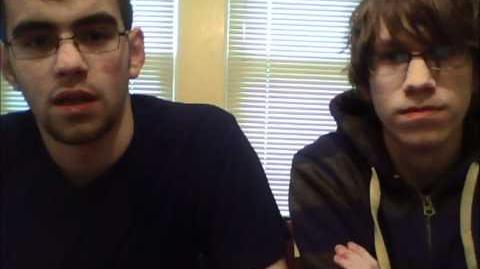 Ad blocker interference detected!
Wikia is a free-to-use site that makes money from advertising. We have a modified experience for viewers using ad blockers

Wikia is not accessible if you've made further modifications. Remove the custom ad blocker rule(s) and the page will load as expected.