the black book.wmv

Chris flips through the pages of the Collective Knowledge.

Upload Date

April 5, 2011

Uploader

Prev. Video

Next Video

Gorr'Rylaehotep

No

The Order

No

Kind von der Ritter

No

Season

1
the black book.wmv is the twenty-sixth video in the Dark Harvest series.
YouTube Description
Edit
http://www.megaupload.com/?d=3VTJY8B1
the download link contains photos of the book's pages.
winrar is needed to open it, but it can be downloaded for free if you google it in the off chance you don't already have it
Following Kind von der Ritter's lead in Legacy, Chris, Alex, and Jesse search the abandoned Rainwood Day Camp, located down the street from Greg's house. The trio take notice of two odd symbols and the word "Colligari" graffitied on buildings in the area. They eventually stumble upon a cramped shed, where they find a book titled the Collective Knowledge. They decide to use the book for more leads. 
Attendance
Edit
Major Events
Edit
Jesse joins Chris and Alex's investigation on Greg's homicide.
Chris, Alex, and Jesse visit the Rainwood Day Camp & Learning Center for the first time.
Chris, Alex, and Jesse find the Collective Knowledge and release scans of it to the viewers.
This is the first video on the channel to not use the traditional "Log Entry", "Log", or "Update" title format.
As mentioned in the Colligari article, "Colligari" translates roughly as "to be gathered together" in German. It can also be translated as "to be tied together" or "to be harvested together".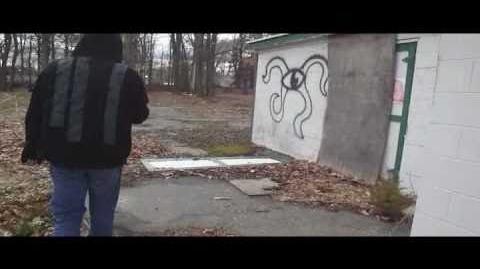 Ad blocker interference detected!
Wikia is a free-to-use site that makes money from advertising. We have a modified experience for viewers using ad blockers

Wikia is not accessible if you've made further modifications. Remove the custom ad blocker rule(s) and the page will load as expected.