Log Entry #3 [11/28/2010 2:15 PM]

Chris displays the picture with the phrase "Mortem Obire".

Upload Date

November 29, 2010

Uploader

Prev. Video

Next Video

Gorr'Rylaehotep

No

The Order

No

Kind von der Ritter

No

Season

1
Log Entry #3 [11/29/2010 6:51 PM] is the third video in the Dark Harvest series.
YouTube Description
Edit
I guess I should start locking my windows.
Chris, after arriving home from work, finds that his power was out and attempted to check his email on his laptop.
He discovers that he had received an email from his own account while he was at work, which contained three images titled "Mortem Obire".
The images revealed that somebody had been in his room around the same time that his door had seemingly shut on its own.
Chris then learns that "Mortem Obire" can roughly be translated to "going to meet death".
Attendance
Edit
"Mortem Obire" means to "going to meet with death".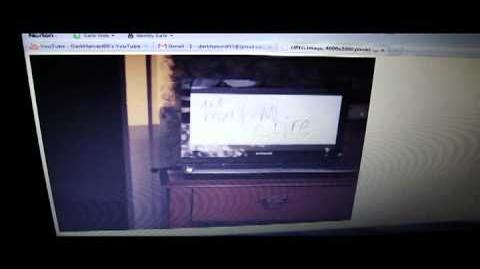 Ad blocker interference detected!
Wikia is a free-to-use site that makes money from advertising. We have a modified experience for viewers using ad blockers

Wikia is not accessible if you've made further modifications. Remove the custom ad blocker rule(s) and the page will load as expected.