Log Entry #15

Kind von der Ritter leaves his message.

Upload Date

April 24, 2011

Uploader

Prev. Video

Next Video

Gorr'Rylaehotep

No

The Order

No

Kind von der Ritter

Yes

Season

1
Log Entry #15 is the twenty-eighth video in the Dark Harvest series.
YouTube Description
Edit
I kept the timestamps on this video for ease of reference.
Police were called once again. They took the knife. We hid the book as well as this video for fear of them confiscating the book. I know it has to be our key to understanding what's going on. I'm not going to let them take that from us.
When Jesse claims that Kind von der Ritter has begun stalking him, Chris and Alex sleep over his house. When they're asleep, Kind von der Ritter enters the room and leaves behind a knife along with a note that says "Trauen".
Upon waking up and finding the two items, Jesse looks up the meaning for "Trauen". When Jesse reads "To trust", Chris looks up at Alex, perturbed by the message.
Attendance
Edit
Major Events
Edit
Jesse believes Kind von der Ritter has started following him.
Kind von der Ritter leaves a message for Chris, Alex, and Jesse, requesting their "trust".
"Trauen" translates to "To Trust" in German.
Chris, Alex, and Jesse play The Legend of Zelda: Majora's Mask on Nintendo 64, with Alex proclaiming it as one of his favorites. This is the second instance where The Legend of Zelda makes an unconventional cameo in the series. The Clock Tower theme (composed by Koji Kondo) plays throughout the moment Kind von der Ritter enters the room.
Jesse is watching Scrubs before Chris and Alex arrive.
This is the first (and only) video in the series to use time stamps on the actual video.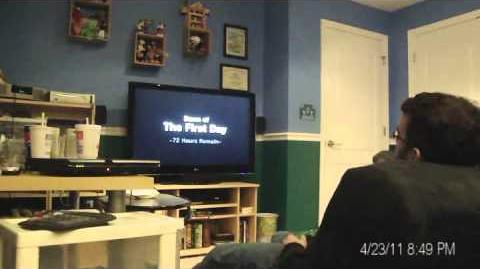 Ad blocker interference detected!
Wikia is a free-to-use site that makes money from advertising. We have a modified experience for viewers using ad blockers

Wikia is not accessible if you've made further modifications. Remove the custom ad blocker rule(s) and the page will load as expected.